Garden City Softball Sinks Liberal
KSCB News - April 17, 2013 7:27 am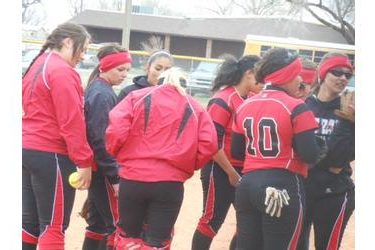 Liberal was no match for Garden City's softball team on a cold day Tuesday at the Liberal Softball Complex. Garden City won 24-5 in three innings and 12-1 in six innings.
In game one, the Buffaloes scored five in the first and LHS plated four in the bottom of the inning. But Garden scored 10 in the second and nine in the third. Riley Hay was 2-2 and Jaycee Darroch hit a three RBI double for LHS in the loss. Garden out-hit LHS 21-4 and LHS had eight errors.
In game two, LHS freshman Brittany Granger was competitive in the circle holding Garden City to six hits. But the Buffs scored 12 thanks to walks and six LHS errors. Liberal had just one hit (Kaitlin Ralston's bunt single in the sixth) against sophomore pitcher Dusti Befort.
Liberal is 5-3 and 0-2 in the WAC while Garden City is 6-0 and 2-0 in the WAC.
Liberal hosts Wichita Southeast Friday at 4 p.m.