Former Saint Number One on ESPN
KSCB News - March 16, 2011 9:15 am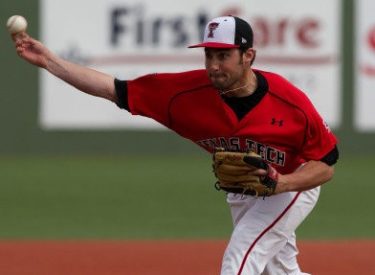 LUBBOCK, Texas – Texas Tech junior right-handed reliever Hayden Holub's wild pitch in the fifth inning almost led to a run scored, but instead landed Holub on ESPN's Top 10 Plays.
The former Saint's wild pitch sent catcher Kevin Whitehead to the backstop, who then threw to a sliding Holub who caught the ball on his left-hand side and acrobatically tagged the runner out behind his back at home plate.
Holub tagged out Texas A&M-Corpus Christi third baseman Bobby Buckner, who is the son of former Major League player Bill Buckner.
You can go to texastech.com to see the highlight which has climbed to number one on ESPN's Top
Plays.
Holub pitched for the Saints the past two seasons.