Former Saint Garners Awards at ORU
KSCB News - April 26, 2013 3:19 pm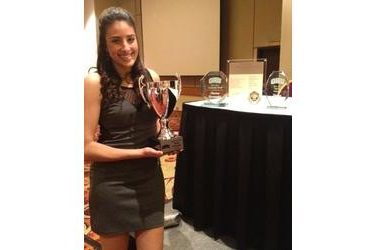 TULSA, Okla.-The Oral Roberts Athletics Department held its annual
All-Sports Banquet Monday night at the Southern Hills Marriott as the
school year starts to wind down. At the event, ORU recognized six senior
student-athletes as the Ultimate Whole Person Champions, the top award
given.
With a 4.0 GPA and a Capital One Academic All-American, Fernandes was a
first team All-Southland selection who posted the seventh-best single
season hitting percentage and the sixth best single season block total
in ORU history. She has worked at children's hospitals, helped pack food
for the hungry with the SIFE outreach project, and volunteered for the
Friday Grocery program at GUTS Church. She also helps coach for Club One
and is currently working as a teacher's assistant in the ORU School of
Business.
Individual recognition at the banquet also went to six student-athletes
who received the ELI Award for Academic Excellence. Bigham and Fernandes
were both included in that list.
The conference players of the year and All-Americans from the year were
also recognized before each team named its MVP. MVP for Volleyball —
Sheina Fernandes. </ViewArticle.dbml?&ATCLID=205179870&DB_OEM_ID=17000>
Sheina is a former SCCC/ATS graduate. She was a leading hitter playing
Saints Volleyball from 2009-2011. Sheina will be returning to Liberal
following ORU graduation as she starts her new job. She and fiance'
former SCCC basketball player Thiago Guilherme will be married in Brazil in December.