Former Saint and Bee Jay Tomlinson Shines Tuesday
Brock Kappelmann - September 14, 2017 6:31 am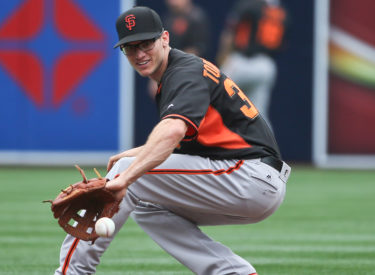 Former Seward County All-American Kelby Tomlinson continued his strong 2017 season with the San Francisco Giants on Tuesday, not only homering off of three time Cy Young Award winner Clayton Kershaw early in the game, but turning in a Gold Glove worthy play later in the game from his shortstop position.
In Tomlinson's first at bat against the future Hall of Famer Kershaw, he spun on a 2-0 fastball, belting it out to left field for his first home run of the 2017 season. In his second at bat against the lefty he singled sharply up the middle with a man in scoring position and in his third trip to the dish he worked the count full before drawing a walk off of Kershaw, the aces only free pass of the night. But it wasn't just his prowess at the plate that 'Tommy', as he is known by in the Giants' Clubhouse, would show off on this night. In the top of the 7th, he turned in arguably the best defensive play of his Major League career, sliding in short center field to make a play on a Kike Hernandez ground ball before spinning around and firing a bullet to first base to throw the Dodger runner out and end the inning.
Tomlinson is currently batting .273 which is third among Giants regulars, while his .355 on base percentage and 9 stolen bases on the year both sit second for the G-Men.
To see his highlight reel plays from Tuesday, click on the links below.
CLICK HERE TO SEE TOMLINSON'S HOME RUN<https://www.mlb.com/video/tomlinsons-solo-home-run/c-1829366983>
CLICK HERE TO SEE TOMLINSON'S PLAY AT SHORT<https://www.mlb.com/video/tomlinsons-superb-sliding-play/c-1829666083>
Roy Allen