Former Optima Fire Chief Charged With Embezzlement
KSCB News - June 2, 2010 12:00 am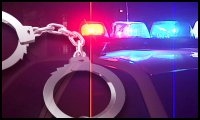 The former fire chief in Optima has been charged with embezzlement after he allegedly misappropriated more than $3000 of the fire department's money.
James C. Lackey, 55, was arrested late last week after the current fire chief told law enforcement officials that Lackey had been using the Optima Volunteer Fire Department's money for his personal bills.
According to a story in the Guymon Daily Herald, the Optima Volunteer Fire Department received a grant from the State and an account was opened at a Guymon bank with Lackey's signature the sole one needed.
Checks were found to be written by Lackey to a local phone company, his wife and other people. Lackey allegedly believed that the Town of Optima loaned him the money but in reality the town didn't have the authority to loan him the money for his personal debts.
A purchase order was also found by the town's clerk and treasurer for a laptop. It was labeled as a "partial imbersement for laptop." No laptop was found in the city hall and no record of one was ever recorded.
Lackey made arrangements with the Town of Optima board members to pay back the money earlier this year but failed to make any payments. He is now being charged with the felony count of embezzlement. Lackey could face up to five years in prison with a $5000 fine and restitution