Forgan Ready for Repeat
KSCB News - February 29, 2012 2:44 pm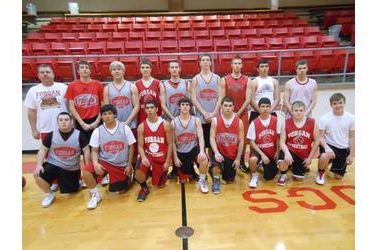 This seemed more like a scrimmage schedule than a postseason. The 26-1 top ranked Class B Forgan Bulldogs are in the state tournament for the third time in four years and they have lit up the scoreboard in the process. Head coach Todd Kerr's Forgan has postseason wins of 95-46 over Gage, 95-25 over Goodwell, 81-32 over Balko, and 80-37 over #5 Fort Supply. The Bulldogs are scary good and some coaches would stack them in the top five in the state in all classes. Their only loss came to 6A Tulsa Union.
Forgan won their first ever boys basketball championship last year. The Bulldogs are back at state this year and play Hammon Thursday night at 8:30 at Carl Albert. The other matchups are Varnum vs. Vinita at 2 p.m. Lomega vs. Burlington at 3:30 p.m. and Fargo against Arnett at 7 p.m.
The Radcliff brothers lead Forgan. Rhett Radcliff averages 16 points, six rebounds, and six assists per game. Ryan Radcliff averages 16 points and six rebounds per game. Senior Tanner Jones (9 p 5 r), junior Jake Regier (10 p, 4r, and 4 assists), and sophomore Trevin Lopez (8 p 4 r) round out the starting lineup. Sophomore Jace Kerr (6 p 4r), freshman Chandler Bryer (6 p 3r), and junior Dalton Lemieux (4p) give help off the bench.
Forgan coach Todd Kerr and the Forgan seniors were guests during the Tuesday morning Sportsguys.