Forgan Brings Championshp Focus into Season
KSCB News - August 17, 2010 12:00 am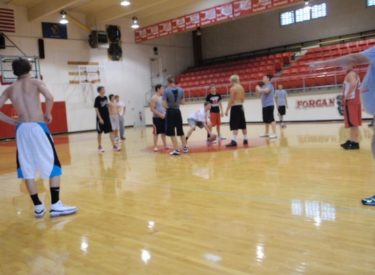 The Forgan Bulldogs are one of the teams to beat in Oklahoma Class C this fall. They only lose two players from last year's 8-5 team who advanced all the way to the semifinals before losing to Seiling who moved up to Class B this year. Forgan hopes to duplicate a state championship run like in 1974 or a runner up season like 2002. Third year head coach Doug Bowles has 23 players out for football. Shattuck is always a favorite and Timberlake is the defending state champ. Deer Creek-Lamont is a contender after beating Shattuck in the playoffs.
Some of the key Bulldogs include jr. qb/cb Rhett Radcliff, jr. ng/g Tanner Jones, sr. Matt Morris, sr. lb/og Taylor Eagan, sr. lb/e Tyler McReynolds, sr. wr/rb/cb Dusty Armstrong, jr. jumping jack wr. Ryan Radcliff, and sr. lineman Angel Torres.
Under Bowles, the Bulldogs were 4-6, 8-5 and hope to be even better this year. The Bulldogs will be featured during the Sportsguys Tuesday morning between 7:37 and 9 a.m on Talkradio 1270 and kscbnews.net.
Schedule
Sept. 3- Canton
Sept. 10- at Buffalo
Sept. 17- Tyrone
Sept. 24- Shattuck
Oct. 1- at Waynoka
Oct. 8- at Sharon Mutual
Oct. 15- Deer Creek-Lamont
Oct. 21- Goodwell
Oct. 29- at Balko
Nov. 5- Boise City