Dustdevils Sweep Aggies
KSCB News - April 1, 2013 6:48 am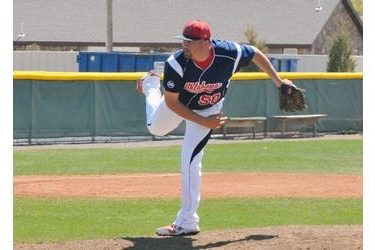 oodwell, Okla.-The Texas A&M University Dustdevils completed a 3-game sweep
Saturday afternoon, beating Oklahoma Panhandle State University 10-0 in an
8-inning, run-rule game.
Even though the Aggies hurt themselves with six errors, they did make some
great defensive plays. In the sixth inning, they made a textbook double play
as Jordan Sprouse threw to shortstop Robert Montoya to get the second base
runner out and then Montoya made a perfect throw to first baseman Nick
Crosswhite to get the batter out. For the third out in the inning, Dominic
DeJoseph, in left field, shot a rocket to catcher BoYbarra who tagged the
runner out at home. The Dustdevil bats banged out a total of 14 hits, two of
them home runs hit by left fielder Matt Garcia. The Aggies had five total
hits, two of them from Ybarra. Starting pitcher Alan Scott scattered nine
hits and struck out one in five innings of work and was credited with the
loss.
The Aggies continue their home stand April 5 with a doubleheader with Newman
University scheduled for noon. The first 150 fans will be treated to a
burger and all of the fixings at game time thanks to the generosity of the
Oklahoma Pork Council! The final game of the series is set for noon on April
6.
###
Laura Nelson