Diamond Dawgs Keep Bee Jays in the Kennel
KSCB News - August 7, 2011 1:00 pm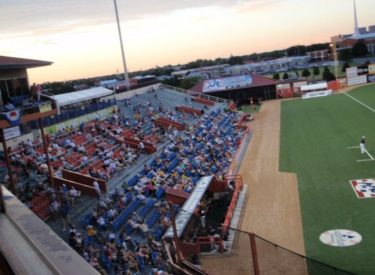 The Liberal Bee Jays looked out of practice Saturday night with their season on the line. After dominating wins 15-0 over the Tulsa Titans July 30 and 8-0 over Play Ball Sports Tuesday night, the Bee Jays lost 5-1 Saturday night to the Walter Johnson League champion Valley Center Diamond Dawgs. Liberal committed four errors and mustered only eight base hits.
Valley Center scored an unearned run in the first after an error by the BJ shortstop. Liberal looked like they might break trhough in the third afer a Dean Friedberg single and a Micah Green pop fly single to right. But the next batter bunted out to third and the BJ's didn't score. It was that kind of night.
The Bee Jays scored in the fourth to tie the game when Toby Semler lined a single to left to score Miles Silverstein. But after three straight singles with one out, a strikeout and fly out to right stranded two more runners.
Valley Center (36-14) scored two in the fifth against starter Josh Smith chasing the BJ ace from the game. Smith went four innings and allowed three runs but one was unearned. Smith falls to 6-3.
The lone bright spot may have been the BJ bullpen. John Beck went two and two-third scoreless innings before Robbie Ingram worked one-third scoreless, Kasey Merck worked a scoreless innings and Richard Olsen didn't allow a run in the ninth.
The Bee Jay offensive woes continued. In the sixth, JT Bean was beaned and then thrown out at second on a pitch in the dirt and to squander a promising inning which included a bean ball, a single, and a walk. Edwin Arroyo was even caught stealing Saturday night. But Valley Center ran on the BJ's at will. The Diamond Dawgs scored two unearned runs in the ninth to make it 5-1. One scored on a dropped third strike and one scored on the catcher's throwing error on a stolen base.
Liberal falls to the loser's bracket and it 32-17. They play Monday night at 10 p.m. against Clarinda. The game will air on Talkrdio 1270.
We thank DeeDee Luebbers for the pictures.