Defending NJCAA Champs Take Three of Four from Seward
KSCB News - March 14, 2010 12:00 am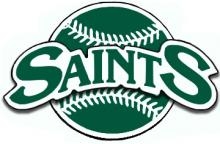 The Seward County Saints baseball team was just a few innings from earning a split against Howard who is the defending NJCAA World Series champs this past weekend in Big Springs, Texas.
On Saturday, Seward and Howard split with the Saints losing game one 10-1, but taking game two 15-10. On Sunday, the Saints dropped game one 17-0 and only had one hit, and then dropped game two 11-7. The Saints led in the fifth inning, but a six run inning for Howard all with two outs put them over the top to win the series.
In the game two victory on Saturday, Kelby Tomlinson was 2-6 with an RBI and a triple. Luke Campbell went 2-6 with a double, triple, and 2 RBI's. David Morgan was 2-4 with 2 RBI's. Jared Broadbent was 2-5 with a homer and 2 RBI's. Jordan Dallalio was 3-5 with two doubles, while Josh Dawson went 2-4 with two RBI's.
Freshman pitcher Paul Pulley came in the game in relief to earn the win pitching four innings and giving up eight hits and one unearned run. Sophomore pitcher Michael Alger earned the save pitching three innings.
In Sunday's game two loss the Saints were led by Dawson who went 3-5 with a double and 2 RBI's, Dallalio who was 1-3 with 2 RBI's, and Quay Grant who went 3-5 with three singles.
Seward is now 11-11 overall. They are still 7-1 in the Jayhawk West though. Seward will play Rose State in Oklahoma City on Monday and Tuesday. they will then play Des Moines Community College on Wednesday in Enid, Oklahoma.