City/USD 480 Sign Interlocal Agreement
KSCB News - April 6, 2014 9:27 pm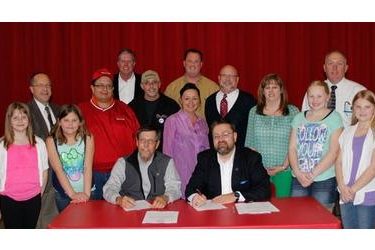 History was made Sunday afternoon at Liberal's oldest school when a joint meeting between the Liberal City Commission and the USD No. 480 School Board accepted an interlocal agreement, clearing the way for the use of a half-cent sales tax to fund school upgrades if voters approve Tuesday's school bond proposal.
The vote was 4-0 for the City of Liberal with support from Mayor Dave Harrison, Vice Mayor Janet Willimon, Dean Aragon and Joe Denoyer. Ron Warren was absent. The School Board approved the agreement 5-0 with support from Board President Delvin Kinser, Matt Friederich, Crystal Clemens, Chris Jewell and Nick Hatcher. Steve Helm attended the meeting over the phone.
The rare agreement was only the third time in Kansas a school board and city have joined forces to use sales tax to help fund school upgrades, and Liberal was the largest community to do so.
The city approved the question to be presented to voters earlier, but the interlocal agreement is required before the tax could actually be collected.