Carroll Clobbers Redskins in Final Game
KSCB News - October 27, 2012 2:47 am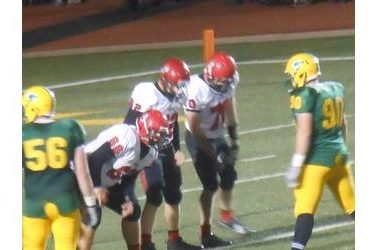 Top ranked Bishop Carroll (9-0) breezed by their once fierce rivals 49-12 Friday night a Bishop Carroll Family Stadium in Wichita. Liberal finishes 2-7 and misses the playoffs for the third straight season.
This was actually a decent game in the second quarter and the LHS defense stood up for two stops in the second quarter and took momentum into the lockeroom. But the Eagles soared in the third quarter outscoring the Skins 28-0.
BC's Denzael Goolsby scored the first TD on a 37 yard run before a six yard scoring run by Jalen Hernandez led to a 14-0 BCHS lead. Britton Abbott found J.J. Lewis for a nine yard touchdown pass over the middle into the north end zone to make it 14-6. A Goolsby two yard run made it 21-6 Carroll with 11:17 to play in the half, but the LHS defense didn't allow another point the rest of the way.
The Redskins began the second half with an onside kick and recovered it at their own 46. But Carroll safety John Buchanon intercepted a dropped LHS pass and returned it to the 13 of Liberal. Hernandez scored on the next play on a 13 yard run. Anthony Troilo then would pick an Abbott pass before a Goolsby three yard run made it 35-6 with 8:51 to play. Goolsby's 25 yard run with 6:08 to play and a 24 yard Hernandez run with 2:14 to play made it 49-6. Abbott found Trenton Hammond for their seventh TD hookup of the season with 1:25 to play.
Carroll had 472 yards and Liberal had 348.