Bumper Crops Expected This Fall
KSCB News - September 23, 2009 12:00 am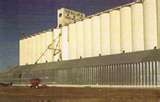 AP) – Grain elevator operators across Kansas are
bracing for bumper fall crops of corn, sorghum and soybeans.
Storage space is even tighter than normal because many
facilities are still full with unsold winter wheat amid a global
glut in stockpiles.
The lackluster demand for wheat has clogged the nation's grain
handling pipeline. That's especially the case in major wheat
producing states where a good winter wheat crop this summer will be
followed by anticipated record harvests of other crops this fall.
The Kansas Grain and Feed Association says it expects grain to
be placed on the ground in some areas. Executive director Tom
Tunnell says wheat from Kansas and Nebraska is being stored as far
south as Enid, Okla.
Poor crops in neighboring Oklahoma has freed up storage space in
terminals there.