Buffaloes Rough Up Redskins in Sweep
Brock Kappelmann - May 3, 2017 7:25 am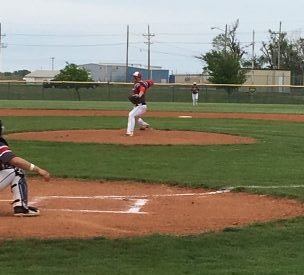 Garden City won two over Liberal Tuesday, and it wasn't pretty.  The Buffaloes won the first game 9-0 and took game two 4-3 over the seventh ranked Redskins Tuesday at the National Beef Family Sports Complex in Liberal.
In game one, LHS had one hit and four errors.  The Buffaloes chased LHS ace Cole Evans and four and one third innings and 99 pitches.  But GCHS only scored three earned runs.  The Buffs scored two in the second, one in the third, and two in the fifth, sixth, and seventh.
Liberal's bats remained silent in game two with only five hits.  Liberal had two errors and only allowed two earned runs.  Kaiden Bigham started and was solid going three and one third innings with 58 pitches.  Alex Yanez (1 and 1/3) and Kaleb Wilmes (1 and 2/3) pitched scoreless relief out of the bullpen.  Garden City gave LHS opportunities walking six and committing four errors.  GCHS scroed one in the first and three in the fourth.  The Redskins loaded the bases with no outs in the fifth but scored only twice.  Cesar Burciaga singled home a run and Jett Brown walked with the bases loaded.  Garden City walked the first two batters in the seventh and Brown singled home a run with one out.  But two strikeouts stranded the tying and winning runs which were in scoring position.
Liberal is 9-2 and 1-2 in the WAC while Garden City is 9-6 and 5-3 in the WAC.  LHS plays Bishop Carroll and Maize Wednesday in Maize.