Big Beaver Brings Back Experience
KSCB News - August 17, 2010 12:00 am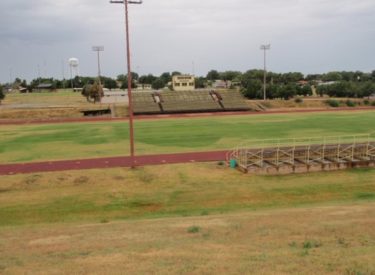 The Beaver Dusters believe again this year. After a 5-5 season, the Dusters have 30 players out for football and return eight starters on both sides of the ball. Sixteenth year head coach Mike McVay says he may have his biggest line since he's been the head coach. His center weighs 265 pounds while his guards go 250 lbs. and his tackles are 225 and 215 pounds.
Since another playoff run in 2006, the Dusters have gone 2-8, 2-8, and 5-5 and missed the playoffs each season. But hopes are high on making the playoffs again with an eight team district again in 2010 instead on the 10 team district the past two years.
Key Dusters include sr. qb/de Samue Becker, sr. lineman Michael Mathis, sr. te/db Cole Trippet, sr. fb/lb Jeremiah Campbell, and sr. lineman/kicker David Rivera.
Beaver opens at home in a non district game against Turpin before road trips to Hollis and Booker.
Beaver's coach and players will be featured during the Tuesday Sportsguys between 7:37 and 9 a.m on Talkradio 1270 and kscbnews.net.
2010 Schedule
Sept. 3- Turpin
Sept. 10- at Hollis
Sept. 17- at Booker
Sept. 24- Texhoma
Oct. 1- OBA
Oct. 8- at Mooreland
Oct. 15- Hooker
Oct. 21 at Thomas
Oct. 29- Fairview
Nov. 5- at Turpin