Bee Jays Win 10th Straight
Brock Kappelmann - June 23, 2017 7:08 am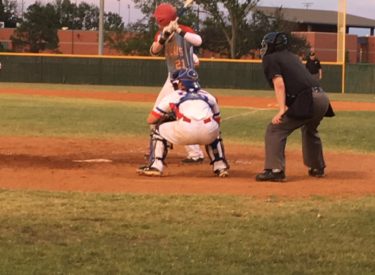 The number is 10.  The Liberal Bee Jays remain on a rampage winning their 10th game in a row Thursday night in Edmond.  The Bee Jays topped the Oklahoma City Indians 2-1 at Oklahoma Christian University.  Hays lost Thursday night in El Dorado to fall to 10-4 and Derby lost the night before in Great Bend and is 11-5.
Cody Wernli continued his comeback trail with his most solid outing yet.  He went six innings with nine strikeouts and a walk.  Cole Jenkins, Zach Zeller, and Cale O'Donnell pitched scoreless innings out of the bullpen.  O'Donnell nailed down his second save.
The BJ's scored in the first inning when Zac Cook doubled and Colton Onstott doubled off the wall in left to give Liberal the run.  Liberal stranded 10 runners on base and scored only two runs on 12 hits.  They definitely left some opportunities out on the field.  The Indians scored in the fifth when Hunter Wilcher blasted a homer to left.  But after Nate Crossman singled to lead off the seventh he would later score on Onstott's RBI single to break the 1-1 tie.
Crossman was 3-4 and Zac Cook was 2-3.  Onstott drove home both runs and was 2-3.  James Hardberger was 2-4 with a double.
The 13-3 Bee Jays drop OKC to 3-13.  Liberal ventures north to El Dorado to play  the Broncos Friday, Saturday, and Sunday night at 7 with the Dugout Shows at 6:45 on 1270 and kscbnews.net.