Bee Jays Show Zero Tolerance in NBC
KSCB News - August 3, 2011 12:18 am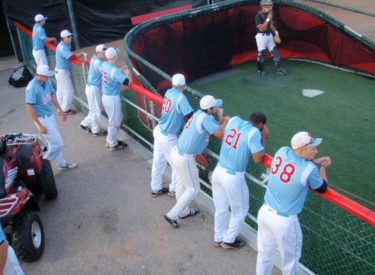 The Bee Jays couldn't have been more dominant in their first two games at the NBC World Series. Tuesday night, the Bee Jays beat Play Ball Sports, Colorado 8-0 in eight innings. Liberal has outscored Tulsa and Play Ball Sports 23-0 in 13 innings in the first two rounds of the National Baseball Congress World Series.
Left-hander Pat Shreve (5-2) pitched 6 and 2/3 innings with nine strikeouts and one walk for the win. Brent Harrison pitched one and 1/3 scoreless.
Liberal scored one in the first when a Blake Bergeron line drive sacrifice fly to left drove home Eddie Arroyo.
They added three in the third when J.T. Bean bounced a single to center to drive home two runs and Miles Silverstein single home a run to make it 4-0.
Bergeron singled home Arroyo in the fifth to make it 5-0 Liberal. The Bee Jays added three in the eighth to win it when Bean singled home a run and Reyn Nagamine doubled home two runs.
Bean was 3-5 with three RBI'.s. Micah Green and Miles Silverstein had two hits a piece. Arroyo had three stolen bases.
Play Ball Sports is 49-18. They are an Arvada, Colorado based group who won the 19 and under NBC championship last weekend in Topeka. They were 2-2 at the NBC in Wichita last year.
Liberal is 32-16 overall and 19-5 the last four years in the NBC. They face the winner of the St. Joseph Mustangs and the Valley Center Diamond Dawgs Saturday night at a time to be announced.
Saturday, July 30th
Opening Night & Fireworks
5:00 PM Game 2 – Kansas Cannons 5 vs. Play Ball (CO) Sports 6 – F/12
7:30 PM Game 1 – Tulsa (OK) Titans 0 vs. Liberal (KS) Bee Jays 15 – F/5
10:00 PM Game 5 – Clearwater (KS) Cowboys 6 vs. Haysville (KS) Heat 8 – Final
Sunday, July 31st
Wichita Suites Buyout Night
Ticket locations can be found at www.hotelinwichita.com
10:30 AM Game 17 – Kansas Cannons 11 vs. Tulsa (OK) Titans 1 -F/7
(Tulsa (OK) Titans Eliminated)
1:00 PM Game 8 – Park City (KS) Rangers 5 vs. Walker Transmission (CO) 1 – Final
5:00 PM Game 4 – Austin (TX) Gold Sox 2 vs. Valley Center (KS) Diamond Dawgs 6 – Final
7:30 PM Game 11 – Nevada (MO) Griffons 3 vs. Derby (KS) Twins 1 – Final
10:00 PM Game 3 – Plaza Tire Capahas (MO) 3 vs. St. Joseph (MO) Mustangs 7 – Final
Monday, August 1st
Budweiser Buyout Night & Player Party
Tickets at Area QuikTrip Locations
10:30 AM Game 18 – Plaza Tire Capahas (MO) 6 vs. Austin (TX) Gold Sox 7 – Final
(Plaza Tire Capahas (MO) Eliminated)
1:00 PM Game 10 – South Bay (CA) System 6 vs. League City (TX) Hornets 7 – Final
5:00 PM Game 12 – Pueblo (CO) Collegians 6 vs. Topeka (KS) Golden Giants 7 – Final
7:30 PM Game 15 – Crestwood (IL) Panthers 5 vs. Hays (KS) Larks 6 – F/12
10:00 PM Game 7 – San Diego (CA) Waves 11 vs. Katy (TX) Collegians 3 – F/8
Tuesday, August 2nd
Baskin Robbins Buyout Night
Tickets at 2126 N. Webb Rd. & 2556 N. Maize Rd.
10:30 AM Game 22 – Derby (KS) Twins 14 vs. Pueblo (CO) Collegians 1 – F/5
(Pueblo (CO) Collegians Eliminated)
1:00 PM Game 20 – Katy (TX) Collegians 2 vs. Walker Transmission (CO) 14 – F/7
(Katy (TX) Collegians Eliminated)
5:00 PM Game 6 – Clarinda (IA) A's 5 vs. Arvada (CO) Colts 7 – Final
7:30 PM Game 25 – Liberal (KS) Bee Jays 8 vs. PlayBall Sports (CO) 0 – F/8
10:00 PM Game 14 – Omaha (NE) Diamond Spirit 0 vs. San Diego (CA) Force 3 – Final
Wenesday, August 3rd
El Mexico Cafe Buyout Night
Tickets at 2544 S. Seneca (CLOSED ON SUNDAY)
10:30 AM Game 19 – Clearwater (KS) Cowboys vs. Clarinda (IA) A's
1:00 PM Game 9 – Hutchinson (KS) Monarchs vs. Santa Barbara (CA) Foresters
5:00 PM Game 26 – St. Joseph (MO) Mustangs vs. Valley Center (KS) Diamond Dawgs
7:30 PM Game 16 – Casa Grande (AZ) Cotton Kings vs. Seattle (WA) Studs
10:30 PM Game 13 – Northwest (WA) Honkers vs. Kenai (AK) Oilers