Bee Jays Rally to Improve to 4-0 at NBC
KSCB News - August 10, 2009 12:00 am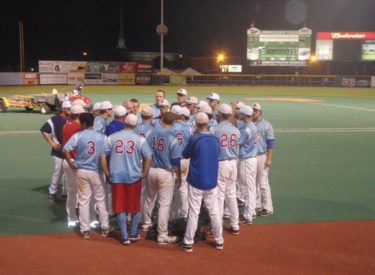 The Liberal Bee Jays trailed 5-3 and were down to their final strike, but rallied for a 6-5 victory over the Conejo (CA) Oaks early Tuesday morning at Lawrence Dumont Stadium in Wichita.
The Oaks got off to a 5-0 lead over the Bee Jays early. Liberal then added one run in the fifth and two in the seventh. The Bee Jays trailed 5-3 in the ninth and were one strike away from losing when Tanner Rindels hit a two RBI single to tie the game at five. Rindels would then end up scoring the leading run on a throwing error.
Rindels finished the game 2-5 with two RBI's. Steven Tucker was 3-4. Matt Applegate from K-State pitched 3 and 1/3 scoreless innings in relief for the victory. Bobby Doran pitched a scoreless ninth for the save.
Liberal is now 33-18 overall and 4-0 at the NBC World Series. They are one of just two undefeated teams left at the NBC. The other team being Jayhawk League Champion El Dorado. The Bee Jays will play El Dorado on Wednesday at 7:30 p.m. The game will air on 1270 AM and kscb.net. Dugout show will begin at 7:15.
Monday's Other Scores:
Crestwood (IL) Panthers 6, Southern California Bombers 3
Anchorage (AK) Glacier Pilots 11, Clarinda (IA) A's 0 (6 inn.)
Derby (KS) Twins 7, Game Time (LA) Rockies 0
Hays (KS) Larks 2, Nevada (MO) Griffons 1
El Dorado Broncos 4, Santa Barbara (CA) Foresters 3
Tuesday's Schedule:
Hays (KS) Larks v. Sedalia (MO) Bombers 1:00 PM
Crestwood (IL) Panthers v. Gunnison (CO) Colts 5:00 PM
Derby (KS) Twins v. Valley Center (KS) Diamond Dawgs 7:30 PM
Anchorage (AK) Glacier Pilots v. Seattle (WA) Studs 10:00 PM
For more information visit www.nbcbaseball.com