Barton Bashes Seward
KSCB News - January 13, 2015 7:13 am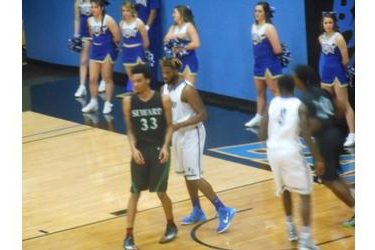 Seward fought, but it wasn't the kind of fight Saints fans wanted to see Monday night at Barton Gym in Great Bend. Barton's offense ran circles around Seward's impotent defense shooting 58 percent and going 21-31 for 68 percent shooting. But after Seward's Kevin Sims was elbowed with 1:33 to play in the game, he retaliated by landing several punches on a Barton player. Sims was ejected from the game and likely will miss the next two games due to KJCCC rules. What is unclear is how many players from both teams left the bench. Whoever leaves the bench in an altercation is suspended for one game. The KJCCC will review the film.
Seward trailed 43-34 at halftime and was in the game until falling apart in a listless defensive effort in the second half as the high octane Cougars outscored Seward 54-39 in the second half. Jamal Poplar scoredf 17 in the loss. Barton point guard Jalin Barnes had 25.
Barton is 15-3 overall and 3-1 in the Jayhawk West while Seward is 9-8 and 2-2. Seward plays at Dodge City in the Dodge City Civic Center Saturday night at 7:30 on B107.5 and kscbnews.net.