Barrios Picks Up Early Honor
KSCB News - February 22, 2012 4:24 pm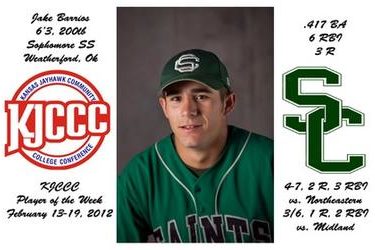 The reigning Jayhawk West Freshman of the Year Jake
Barrios started off his 2012 campaign where he left off in 2011 as the
sophomore shortstop hit in all 7 of the Saints games last week, posting
a .417 batting average while playing sparkling defense at shortstop
handling 27 chances without an error to open the year. Barrios went 2
for 3 with 3 RBI's including the game winner as Seward knocked off
Northeastern to open the year and had another multi RBI game later on in
the week on the road at Midland. It is the first time Barrios has taken
home the award in his already stellar Seward County career.