Areas Of Light Park To Close As Sampler Festival Nears
KSCB News - April 24, 2013 4:08 pm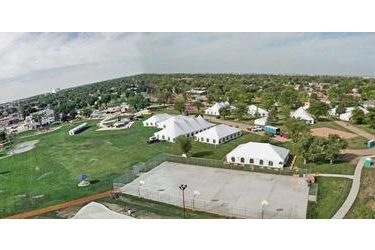 Due to the large volume of work needing to be completed in the week leading up to the Kansas Sampler Festival, the portion of Light Park inside the orange fencing will be closed to the public from Sunday, April 28, through Friday, May 3. The skate park and the multipurpose court will remain outside the fence and be available for use.
"I am sorry if this inconveniences the citizens of our community but hope they will realize it is necessary as we prepare to host one of the largest traveling festivals in the state for the second year," said Sally Fuller, Liberal Convention and Visitors Bureau Director. "Please respect the boundaries of the fence and stay on the outside for the week leading up to the festival as crews will be using heavy equipment inside and we don't want anyone to get injured.
"The Festival will be Saturday, May 4, from 10 a.m. to 5 p.m. and Sunday, May 5, from 10 a.m. to 4 p.m. and we hope everyone attends," Fuller continued. "It is a great event for the whole family and very affordable."
Prices are $5 for adults, $3 for children 7 to 12; and free for those 6 and under. Weekend passes are available for $8 and $4 respectively.
The park will reopen for normal activities on Monday, May 6.