A Home Makeover at Hugoton
KSCB News - August 25, 2011 7:26 am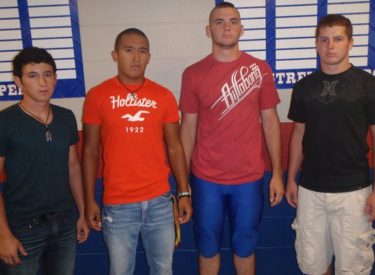 Hugoton moved into a plush new high school and middle school addition on Wednesday. The structural improvements include a new boys locker room which the football team uses and a sprawling new state of the art weight room. The football program now has the challenge of keeping up with the new digs. Hugoton seems to be headed in that direction after making the playoffs at 4-6 in a rebuilding year in the new Greater Western Athletic Conference. The Eagles were 10-1 and won a playoff game two years ago.
Sixth year head coach Clint Merritt returns seven starters on both sides of the ball and 14 seniors to lead the way. The Eagles have 45 players out for football at the 4A school and while Merritt knows power 4A programs have 70 or more out for football, he knows he has quality instead of quantity.
Colton Lissolo leads the HHS line. He was a first team GWAC player last year and won the 215 pound state wrestling championship. The senior also plays defensive end. Other key Eagles include: senior quarterback and free safety Cody Frederick; senior offensive lineman James Hale; senior tight end and defensive end Ty Haller; senior wide receiver, defensive back, and kick returner Isidro Mora; and senior wide receiver Logan Livengood.
Hugoton made it to the 4A playoff last year and lost to 4A power Buhler coached by former LHS head coach Steve Warner. Eagle players hope that will be a learning experience for this year.
Coach Merritt and the Eagles will be featured during the Thursday Sportsguys between 7:37 and 9 on Talkradio 1270 and kscbnews.net.
Schedule
Sept. 2- at Goodland
Sept. 9- Colby
Sept. 16- at Guymon
Sept. 23- at Oakley
Sept. 30- Scott City (102.7)
Oct. 7- Southwestern Heights
Oct. 14- at Larned
Oct. 21- Holcomb
Oct. 27- at Ulysses