2 plead guilty in west Kansas robberies
KSCB News - August 27, 2010 12:00 am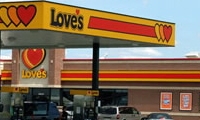 Kristina Pauline Lashmet, 23, and Ryan Wesley Swisher, 28, each pleaded guilty to one count of aiding and abetting the discharge of a firearm during a robbery.
They admitted in their pleas that they and a third defendant, John Grant Shore, 23, also of Johnson City, committed the robberies on Feb. 14.
During a holdup at Eagle Travel Plaza in Tribune, prosecutors said, Shore went into the store alone, pointed a gun at a clerk and demanded money.
The three then drove to Love's Country Store in Syracuse, prosecutors said, where Shore and Swisher went into the store and took cash, cigarettes and 40 lighters. During that holdup, prosecutors said, Shore fired one shot in the clerk's direction and four shots at the locking mechanism on a safe.
Lashmet and Swisher are scheduled to be sentenced Nov. 10. Shore is scheduled to stand trial in September.
Read more: http://www.kansas.com/2010/08/27/1464860/2-plead-guilty-in-west-kansas.html#ixzz0xowv63Vv